Various the trojan story volume two
To show that even the working principle behind the Nazi-Soviet eradication of the culture of Eastern Europe, along with its richly intellectual Jewry of yore, isn't foreign to the apparatus of modern European Union organization – let us recall that in 1999, Serbia was treated with an imposed violence to force her to open up to the policies of the Left waiting in the wings behind the arms of NATO (allegedly in the name of the human rights of the Albanian-Muslim population in the south). Just like the Jews of East Europe, the non-Albanian minorities within Kosovo were thrown to the winds to secure an agenda. NATO defended the claims to the human rights of armed Albanian terrorists in 1999 who freely operated in Kosovo, Serbia, ambushing, killing and maiming whomever they pleased ( because they were exempt from criticism since the Left-owned Media in the West granted them a free pass for the sake of an ulterior political motive ). In Syria, the same approach has been applied by NATO and the Washington war lobby, although there it failed (the only instance in which this has ever happened). So, the military-political cookbook with which the policies of the Left in the West are imposed on foreign countries has not changed. The European Union used the battering arm of the NATO military organization to impose on Serbia the destruction that opened the doors to the social re-engineering policies of the Left to be applied on the prostrated and wounded country whose most sacred Medieval ground was just thrown into the lap of the barbarians at Europe's door.
The Trojan Story, Vol. 2 picked up where its predecessor left off, continuing a somewhat disjointed but enjoyable vault raid on the Trojan archives. Starting with Scotty , late of the Chosen Few and the Federals , it carries us through the broken beat rhythm of the Ethiopians ' "The Selah" and into Delroy Wilson 's autobiographical "Better Must Come" (which found its way into the Island's politics in 1971), and Little Roy 's infectiously catchy "Hard Fighter." Niney the Observer 's "Blood & Fire" is an ominous revolutionary tract set memorably to music, while "Africa Is Paradise," by the Conscious Minds, is a breathtakingly beautiful paean to Rastafarianism. The collection moves from treasure to treasure, showcasing the work of rival singers U-Roy ("Earthquake") and El Paso ("Mosquito"), Winston Scotland of the Chosen Few , and the extraordinarily youthful Dennis Brown (when he was but 16-years-old) showcase "What About the Half?" backed by the Soul Syndicate . The Syndicate turns up again on "Riot," ex- Skatalite Dizzy Johnny Moore 's trumpet carrying the piece. Perhaps the biggest surprise here is the Heptones ' rendition of "Our Day Will Come," which puts a delightful and totally unexpected spin on the pop/rock classic.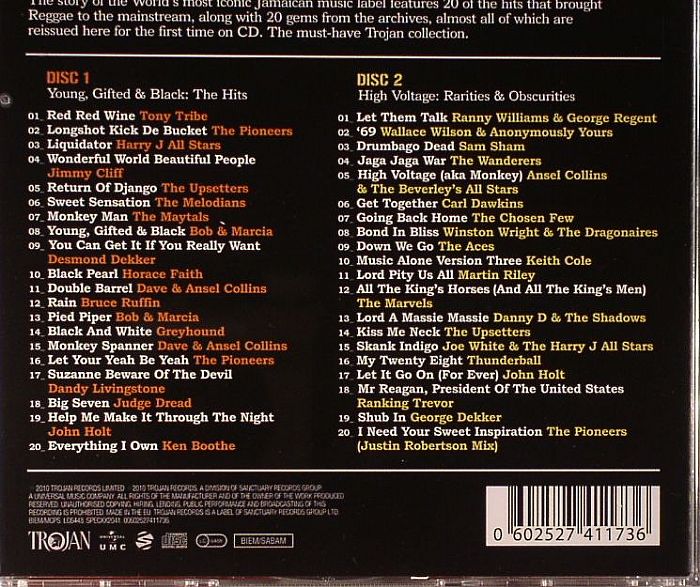 mbrof.theimportcarstore.us